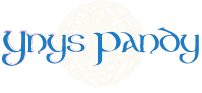 Ynys Pandy - Self catering holiday cottage - Testimonials
Personally we love Ynys Pandy, and it seems our guests think our self catering holiday cottage is pretty special too. Our Visitors' Book is full of praise and we've chosen a few that, we think, say it all.

" Thank you for a beautiful and lovely time away. Immaculate & well equipped cottage, child proof for two little monkeys! Beautiful surroundings, local walks and Blackrock Sands and jellyfish. Thank you!"

" We have had a lovely stay here at Ynys Pandy. Thank you for having been so welcoming and for having put so much thought into making this a great and relaxing holiday home. The boys have loved the garden and the train set. We've visited Llanberis railway (a good one for children), Beddgelert, Bodnant Gardens, Castles and Criccieth for the beach. We have done some good toddler friendly walks too including the precipice walk (3.5 miles and stunning scenery). All in all a fab week."

" We've had a wonderful stay here. The location was perfect and our son loved seeing and hearing the sheep, birds and squirrel! The cottage is perfect for a family and the weather has been fantastic – no rain at all!!"

" Amazing stay as always, we had a brilliant week here and even though it rained most of the time our moods never dampened. Thank you for being amazing hosts. This place wil forever hold a part in our hearts, phenomenal memories shared here like always.

"Our first visit! A lovely welcome, very clean and well equipped, comfy beds and everything we needed. It was wonderfully quiet here and we had a brilliant holiday. Thank you Bren and Tom "

"We have had a lovely week and been blessed with good weather. The fresh flowers and welsh cakes were most welcome on our arrival. Your cottage is beautifully equipped and maintained, its a real home from home. We have been to Portmeirion, on the railway and to Abersoch. Black Rock sands is a must for the less able (as you can take your car onto the beach) and dogs. Thank you for a wonderful stay."

"A breath of Fresh Air! Thanks Tom and Brenda."
Why not have look at Ynys and the surrounding area yourselves.